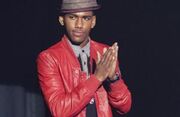 Lord of Da Bling is the main antagonist of Let It Shine and love rival of Cyrus Debarge for Roxie. He is portrayed by Brandon Mychal Smith.
Lord of Da Bling is, plain and simple, a bully who is more full of himself than he has right to be. Despite being renowned as the best rapper of the club he performs at, Da Bling's actual talent is limited, as he has no love for the music, only the fame he gets from it. The rapper always acts as though the protagonist Cyrus is beneath him, and calls him bus boy. He also has a crush on the budding singer Roxie, and puts Cyrus down front of her any chance he gets.
However, Da Bling has a secret: the rich lifestyle he raps about having is a lie, and he works as a taxi cab driver. Late into the film, Cyrus catches Da Bling at his job, but keeps it secret at first.
At the Grand Slam rapping battle, Da Bling wins, but when Cyrus walks up to give him the trophy, Da Bling insults him again, and Cyrus challenges the arrogant rapper. When it seems that Da Bling is winning, Cyrus finally reveals Da Bling's secret to the audience and wins not only the challenge, but the Grand Slam's trophy. Humiliated, Da Bling runs off the stage in a huff.